Source: http://goafrica.about.com
Zimbabwe might not have had a good time of it lately, but after a decade of political instability, violence and economic turmoil, the country is finally starting to put its turbulent past behind it and re-emerge as a tourist hot-spot. Home to some of the greatest safaris in Africa, UNESCO World Heritage sites and, of course, the mighty Victoria Falls, there's plenty to see and do in this beautiful country, and you'll always be greeted with a warm welcome and a friendly smile. Better be quick though, Zimbabwe won't stay a hidden gem for much longer!
Bag a Hole in One
Any fairway enthusiasts will feel right at home in Zimbabwe, with the country's Eastern Highlands offering some truly breath-taking golf courses. The Troutbeck and Claremont courses in the Nyanga area are perfect for those with a low handicap who are up for a challenge while the Leopard Rock Hotel in the Vumba offers some of the most stunning greens in the world, with incredible views waiting for you at every hole.
Get Up Close and Personal with the Wildlife
Source: http://www.southafricasafariblog.com
If there's one thing Africa does well, it's safaris, and they don't come much better than Hwange National Park. As well as the Big Five, the park is home to lots of different species of game and you can explore the bush and take in the beautiful scenery whilst trekking on horseback. A whizz with the camera? You might want to consider a photographic safari at Hwange or the Honde Valley, especially if you're a fan of our feathered friends. Now those will be some photos to make your friends jealous!
House Boat on Lake Kariba
You may have done your research on how to get around the country, but if you're a fan of the more unconventional travel methods then houseboating on Lake Kariba is for you. This unique experience is a real must for anyone visiting Zimbabwe, and during your five day stay you'll moor up at a different spot every night, giving you chance to spot game at the Matusadona National Park, enjoy a spot of fishing and take in the gorgeous views around you.
Go Extreme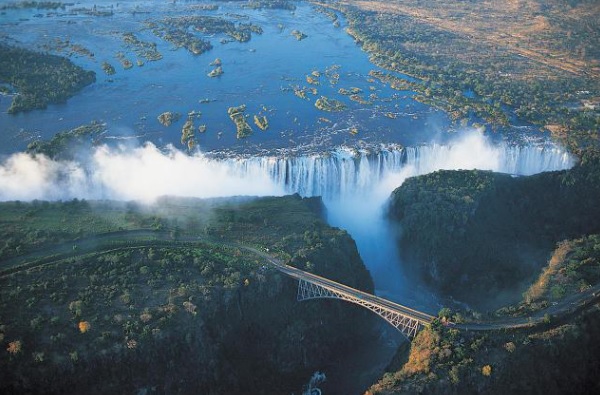 Source: http://goafrica.about.com
The Victoria Falls are one of the country's top attractions, but they have far more to offer than just stunning scenery! To really get your adrenaline pumping, why not try bungee jumping off the Victoria Falls Bridge? Thousands of people have flocked here to brave the 111m head first plunge towards the Zambezi River. You'll even get a photograph to take home as evidence of your daring. If you prefer to get your thrills closer to the ground, the Zambezi River is the ideal place to try your hand at white water rafting alongside an experienced guide.
Alternatively you can even take in the Falls from all angles on a helicopter tour!
Step Back in Time
Zimbabwe certainly isn't short of historical sites, but if there's one you must visit it's the Great Zimbabwe Ruins. Built in the 11th century, these stone buildings are amongst the oldest ruins in Southern Africa. Eight soap stone birds were found in these ruins, which became a World Heritage Site in 1986. A must for any history buff!