Melbourne has been considered one of the best cities to live in on the planet. What this means is that Melbourne has an attraction that is not easily relayed through words. Instead of exploring a theme of the city, this article will throw a few things out there at random with the hope that your interest will be sparked and you will look into these or other similar attractions yourself. You will reserve a Melbourne hotel through HostelBookers.com, and then you'll be set to see about these miscellaneous options.
The Comic's Lounge
Image source: avlxyz
No life is complete unless it feels the heaving of laughter, and Australians enjoying their magnificent city of Melbourne are no exception to that rule. Given that the city holds such a reputation for good living, it only makes sense to check out the comedy scene. There are several clubs but the Comic's Lounge is mentioned more often than its competitors. Australia's brand of humor will be put on display for you, and depending on when you're in the city, maybe you'll catch an international act as well.
Beat and Inpress
These are free magazines that you will find throughout the city. They list free and ticketed music shows taking place across the city, and so provide your best base from which to plan your experience of local bands. Melbourne is a very developed urban cultural hub, and so you can expect a great variety of music at a great many bars and clubs that play host.
Black Light Mini Golf
Image source: brenderous
Something that you won't find elsewhere in Australia is a miniature golf course designed as a nighttime fun trap. Kids or no kids, this is fun for everyone. It's lit by black light and themed based on Australian images.
Suga
If you have a sweet tooth, then this shop is a place for you. The rightly-named Suga is a candy store where you can watch them make the hard little treats. You ought to combine a visit to the Queen Victoria Market, which is where you'll find all manner of fare.
Petaling Street
This restaurant is a Malaysian owned and operated joint where you can sample such mainland delicacies as roti paratha and laksa. It's an important aspect to take note of; immigrants from the nearby Asian countries make up a significant portion of the local populace, and their foods have slowly become a staple of Australian culinary outings. Find this establishment the Boxhill neighborhood. 
The Green Refectory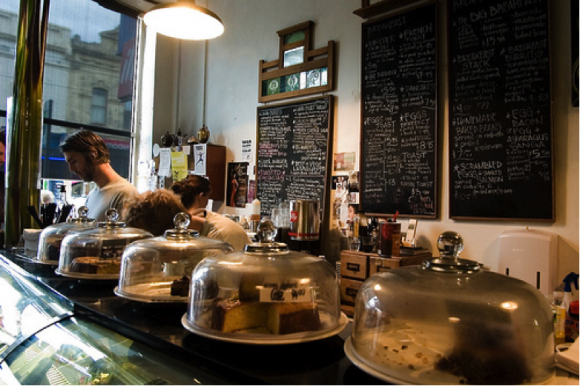 Image source: jonolist
If you can't function without coffee, you'll be happy to know that Melbournians cannot either. You'll find cafes everywhere, but to save you the trouble of searching the best ones out, go ahead and plan for a visit in on this one. Located in Brunswick, the café is a centerpiece of the diverse crowds that this neighborhood is known for, so you get to enjoy your coffee and perhaps eaves drop on an interesting conversation, or begin one yourself—strangers are the best of company.
There is a whole host of neighborhoods that can steal your days before you even know that you're awake. The City Center holds the historic district and the neat Docklands area; St. Kilda is where you'll end up if a hostel is your game; Fitzroy is the trend-setting neighborhood and Richmond is home to the intriguing Little Vietnam. Wherever you choose to spend your time, at least you know that there's enough to fill it.